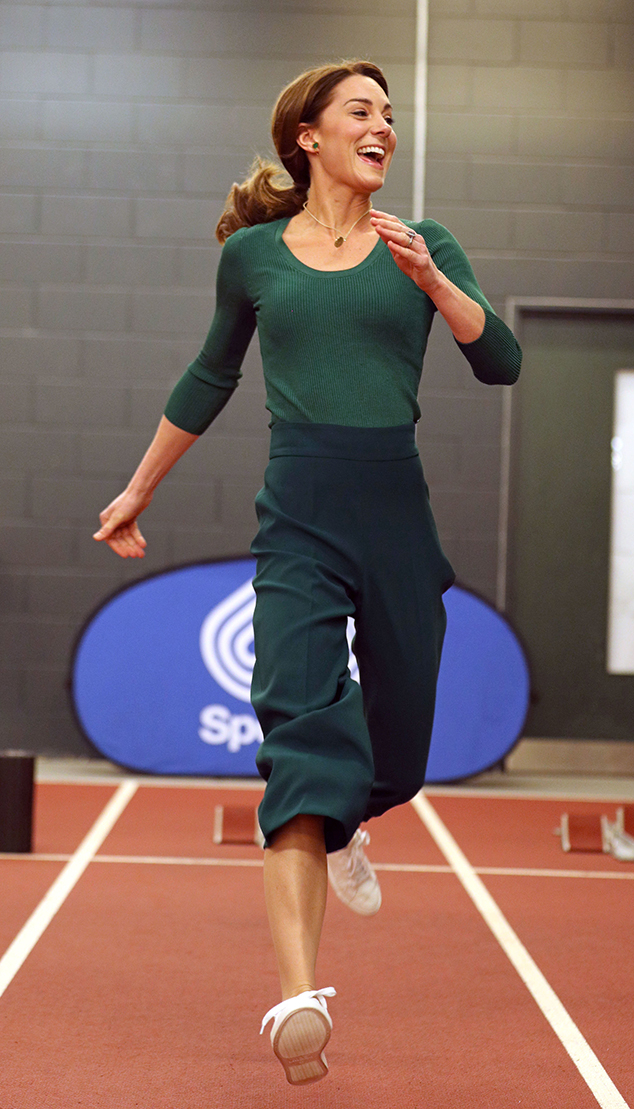 YUI MOK/POOL/AFP via Getty Images
Kate Middleton attended a SportsAid Stars event at London Stadium in Stratford on Friday.
During her visit, the Duchess of Cambridge participated in a number of activities. For instance, she watched a taekwondo demonstration by Olympian Lutalo Muhammad and fighter Mia Pachansky and even received a tutorial on how to throw a reverse punch. She also learned about track and field from coach Coral Davis Nourrice, heptathlete Jessica Ennis-Hill, wheelchair racer Danny Sidbury and sprinter Emmanuel Oyinbo-Coker and pushed off the starting blocks.
But that's not all. Kate also learned about ParalympicsGB's plans for the 2020 Games in Tokyo and met with a number of SportsAid athletes, including Amy Holder, Karim Chan, Molly Kingsbury, Emmanuel Thomas and Dom Ogbechie.
In addition, she spoke with parents and guardians about the impact SportsAid, an organization that supports the next generation of athletes, has had on their children and how the charity can further support them. She also later gave a speech.
"The crucial role that parents and caregivers play in our children's lives cannot be underestimated," she said at one point. "For all of you here, you go, and have gone, above the beyond the call of duty; you've committed your time and devotion to nurturing your children's exceptional talents. And, as a parent, I have a huge admiration for you, and I know just how complex and time consuming your role is. You are simultaneously the transport and logistics managers, nutritionists, laundry service psychologists, financiers and, crucially, the ones that provide love, support and encouragement when things are tough. You may not always feel appreciated, or sometimes even noticed on the sidelines, in the car park or sitting high in the stands, but I am so proud that SportAid recognizes how key your role is and that they understand the challenges and worries you face."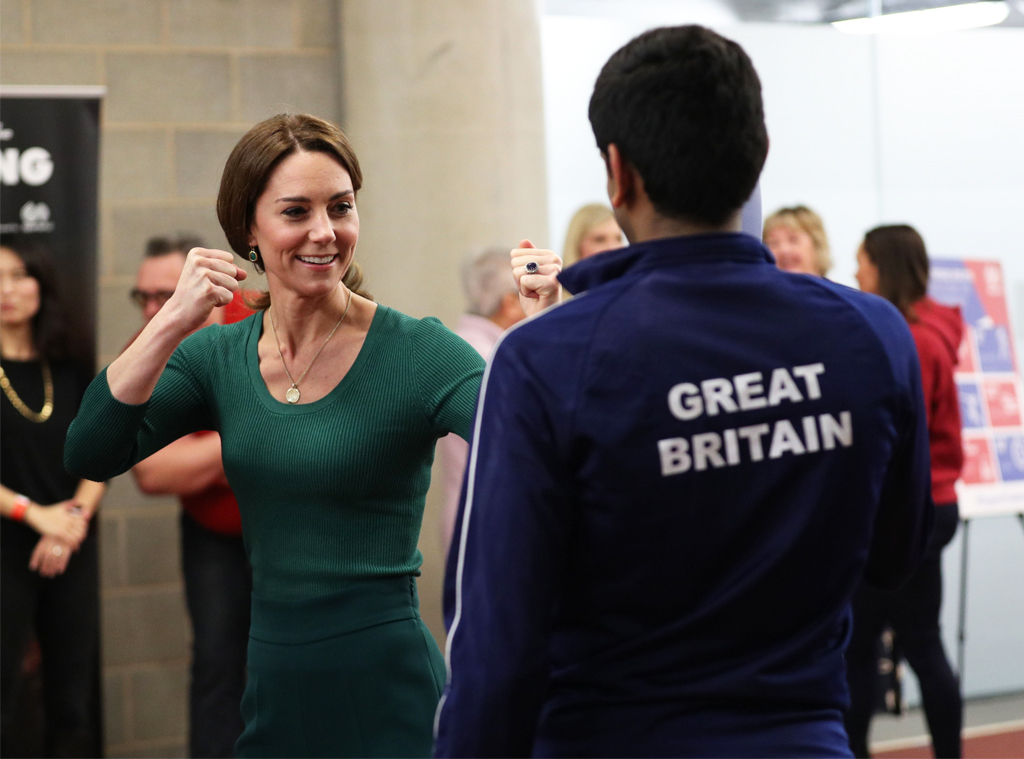 Yui Mok – WPA Pool/Getty Images
She also wished "the best of luck to all of those aiming to participate in the Olympic and Paralympic Games this year."
"We'll all be cheering you on," she said.
Kate wore a navy "duchess wool blazer" by Smythe and high-waisted Culottes pants by Zara to the outing. She accessorized her look with "ribbon detail lace-up trainers" by M&S, "siren wire earrings by Monica Vinader and a gold necklace by Daniella Draper.
Kate has been a patron of SportsAid since 2013. She's also shown her sporty side before.