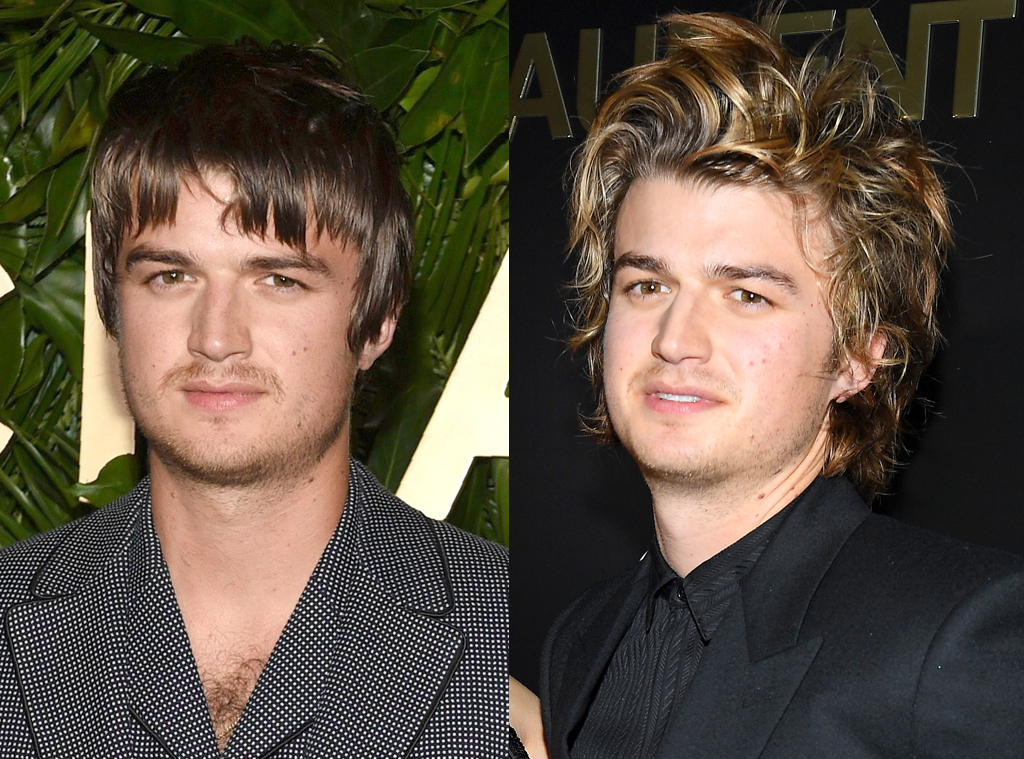 Chris Pizzello/Invision/AP/Shutterstock; Pascal Le Segretain/Getty Images
Joe Keery is throwing it back to the days of frosted tips with his latest look.
Like many other A-listers, the Stranger Things star traveled to Paris this week to survey the newest collections from France's hottest designers. While at the Saint Laurent Paris show with girlfriend Maika Monroe, the actor debuted his latest look. Gone is the bowl cut of last year and in is his classic voluminous locks with a twist: chunky blonde highlights.
It would appear the "Roddy" singer is following in the footsteps of stars the like of Kelly Clarkson, who modeled the the hair trend at its peak popularity in 2002. Nowadays, celebrity hairstylist Andrew Fitzsimons is calling the look Bronde, a.k.a. a brown and blonde highlights.
But as far as trends go, it's likely Joe won't be wearing this hairstyle for long.
Last September the 27-year-old made an appearance at a Chanel event sporting a bowl cut, which sent the internet into a frenzy. One person on Twitter shared, "I am in mourning of joe keery's hair please do not speak to me for at least 3 hours."
Joe, however, didn't understand the deep attachment fans have for his hair, which was already back to its typical appearance. "It's just a regular person getting a hair cut," he stated in a later interview.
Since then, he's grown back Steve Harrington's luscious locks and calm was quickly reinstated, until the Saint Laurent show at least.
It may take some time for fans to get used to his new 'do, but followers of the fashion scene knew it was love at first sight when they caught a glimpse of his double-breasted suit that was perfectly tailored. His all-black ensemble was handsome and looked great next to Anthony Vaccarello's design that Maika wore.