Jordan Poole is finally addressing the rumors he shelled out half a million bucks on a date with Ice Spice … and the Washington Wizards guard says it's all fake news!!
The 24-year-old hooper's hilarious denial came during a meet-and-greet with fans this week … when one young supporter asked him straight-up if there's any truth behind the talk of an extravagant romance with the MC.
"Definitely not," Poole said. "Definitely cap!"
If you're not aware of how this came to be, rapper Cam'ron started the drama back in May when he called out Poole — then on the Golden State Warriors — for his playoff performance.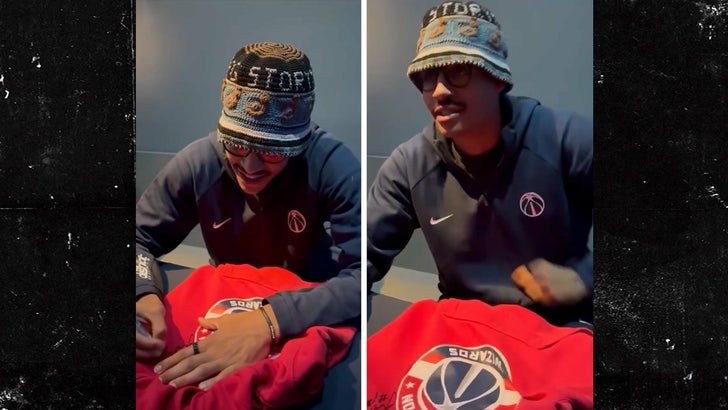 YouTube / @Curryfan1234
"Jordan Poole, you spent $500,000 on an Ice Spice date," Cam said on his "It Is What It Is" podcast. "You're a munch and you're playing like a f***ing munch."
"This is not you from last year, bro. Go back to Milwaukee and figure it the f*** out and get back in the playoffs, 'cause you look crazy."
Fans ran with the $500k rumor … especially since Ice Spice is one of the hottest female rappers out right now, and Poole had signed a four-year, $140 million extension months prior.
Poole's adamant response should be enough to clear his name of the wild rumor … but it probably won't stop the internet trolls from sticking to it for entertainment purposes.
Poole's teammate sitting beside him thought his answer was hilarious … but at least we now know straight from his mouth.
Let's play devil's advocate here — Poole only denied dropping a ton of dough on a date with IS, so it's entirely possible he DID take her out … just for much less. But it looks like she's never addressed the rumor in the first place.
This is not the first time Ice Spice has been involved in dating rumors … fans also thought the 23-year-old Bronx native was in a relationship with Lil Tjay after he copped her a $150k watch — but we were told they are just friends.