Over the last three years, we have seen and heard every excuse from book banners for why they do not ban books. They instead "curate" or "ensure that only appropriate books" remain available in libraries. They insist that because those books are available at public libraries and for purchase, they have the right to demand books they don't like to be removed from schools.
Of course, anyone who has paid attention for a second knows these are excuses. As soon as school book bans took off, so, too, did attempts to ban books from public libraries. Books in public libraries need to be better curated, need to be more age-appropriate, need to be labeled and moved per the current trends in right-wing social media.
For the most part, book stores have been spared. Not entirely, though. Last year brought an attempt to ban the sale of Gender Queer and A Court of Mist and Fury over claims of the titles being illegal under state obscenity laws. The lawsuit failed, as nothing about either book fails the Miller Test.
But for all that book banners claim it is okay for the books they do not like to be sold, the reality is they are not okay with that either. In the last several years, there have been attempts to censor the materials made available at school book fairs. Among the stories include the "reevaluation" of books for sale at book fairs in Mat-Su School District (Alaska — a school with a lengthy history of book bans), the removal of Heartstopper from a Scholastic Book Fair in South Carolina, parents believing they should determine which books are available for Scholastic Book Fairs in Little Miami (Ohio), two board members of the Hastings School District (MN) removed books they disagreed with from a Scholastic Book Fair, and Grapeville-Colleyville Independent School District disallowed a Scholastic Book Fair (which was then privately held by parents angered by this overstep of local government), among dozens of others. Right-wingers have developed some pretty outlandish conspiracy theories about book fairs, too. In one instance, a candidate for the Denton Independent School District school board claimed that Scholastic Book Fairs were enticing educators to indoctrinate students.
We are going to see this continued censorship of book fairs across schools this year as banners continue to look for new targets for their moral panic and conspiracy theories. To thank for what will be an increase in the immediate future? Brave Books. Indeed, the same group that asked right-wing Christofascists to "see them at the library" for a nationwide storytime of conservative children's books is now campaigning for parents to see the kinds of books being sold at these book fairs.
The fear-mongering post by the publisher hit their social media feeds last week, creating a cascade of posts from right-wing groups like Moms For Liberty and others warning members to continue being vigilant and to demand knowing what is happening at school book fairs. The same people who say they are allowing access to books by letting them still be at public libraries or be sold to people have decided that, indeed, they were only saying that. They did not mean it.
What's important to consider is how the messaging is packaged. First, it's a series of images of quotes from several commonly banned books without a single lick of context to them. We know context makes no difference to censors, and yet seeing it so starkly manages to stoke the flames of people desperate to assert a false sense of control over the world around them.
Naturally, there's more to this story. It's Brave Books's capitalist solution: their own book fairs.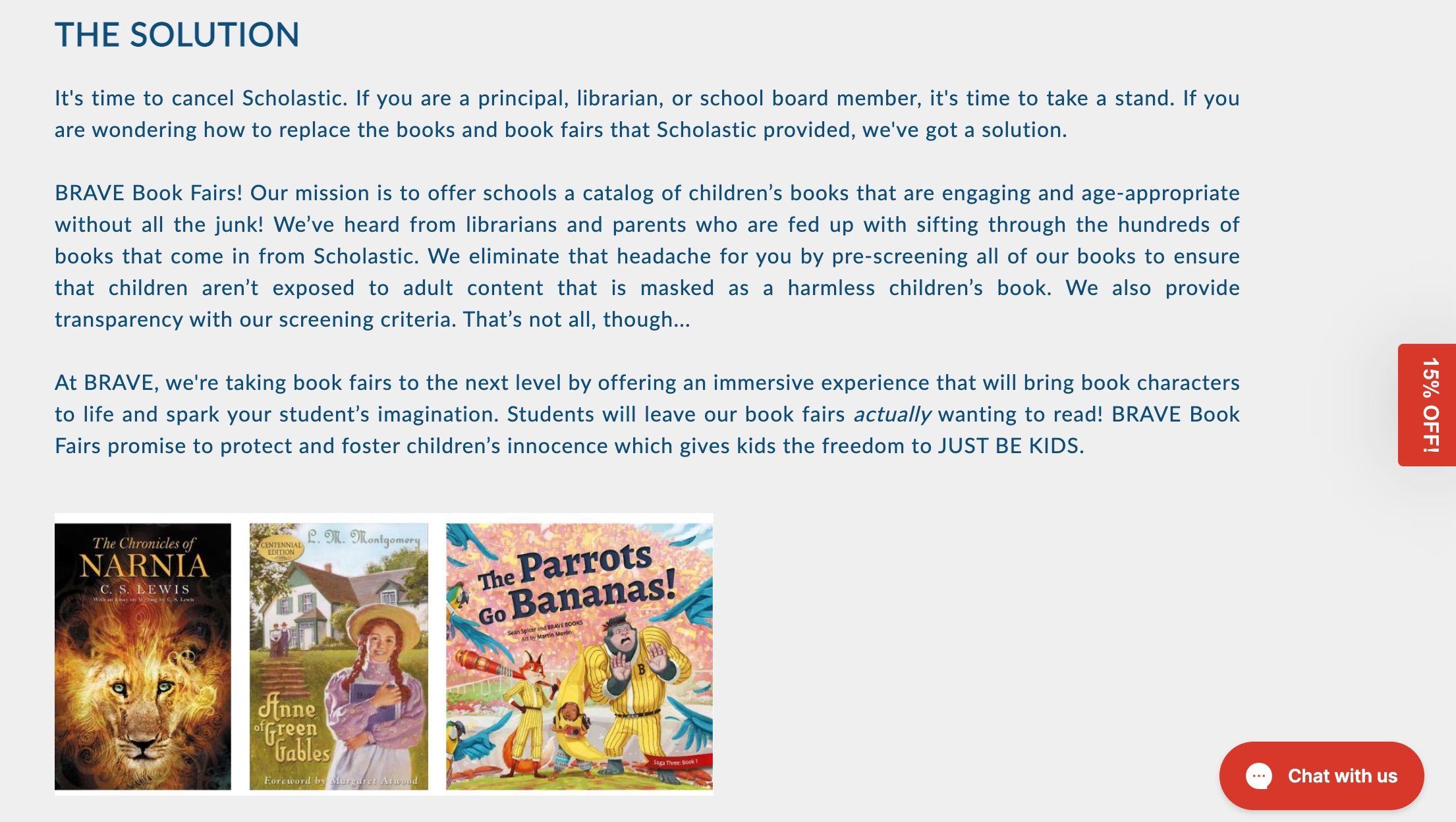 Not only does Brave Books provide book banners with the language through which to demand books be removed from book fairs at schools — those cherry-picked quotes are precisely what you can see showing up in emails and at school board meetings by those who've been groomed by this agenda — but they offer those same people a solution to the problem.
You can't call them book banners if they are running their own book fair, can you?
At the end of the day, it's still the students who lose to these agendas. Students who can not only not get the books they want to read in the place where they spend 7+ hours a day — books that are both mirrors and windows to their actual world — but they cannot buy them when the book fair comes to their school, either. For the kids with no public library or the kids whose public libraries have been gutted by this same agenda, the same kids who continue to lose to the right-wing insistence on being pro-life despite a lack of social support or ban on the weapons that have become the leading cause of their death, the pain amplifies.
We know that the goal is to not only kill public institutions. It is also to ensure an uneducated populace eager to lap up the neatly developed agenda by a well-connected, well-funded network of christofascists.
Try not to be surprised as more and more hysteria surrounds book fairs as the 2023-2024 school year unfolds. It's been happening, and with the new wave of manufactured outrage, it's going to keep happening.
Book Censorship News: September 15, 2023
Seven Chicago-area libraries received bomb threats on Tuesday, following in the same pattern as the bomb threats that came last month. The seven libraries were Poplar Creek, Schaumburg, Aurora, Evanston, Addison, Libertyville, and Chicago's Harold Washington Library. These came on the same day Illinois Secretary of State and State Librarian Alexi Giannoulias testified before the Senate Judiciary Committee on book bans. These might not be related, given that these bomb threats have been happening before.
Following those threats were 8 more on Thursday. Libraries in the Chicagoland area which received bomb threats on September 14 included Joliet, Fountaindale, Addison, Oak Park, Chicago, Evanston, Aurora, and Crystal Lake.
That these have not stopped over the course of nearly a month is mind boggling, infuriating, and accomplishing precisely what is intended: fear.
Carroll County Public Schools (MD) are reviewing 50 books that have been challenged. In a move of straight censorship, the books have been pulled from shelves while they await review at the anticipated rate of 5 books a month.
With permission granted by the school board, Marietta Schools (GA) will begin to pull "books considered obscene, pornographic, not age-appropriate, or without substantive historical or academic value." Great, just great. This is going to be a review of 20,000 books.
Two librarians at a small Kansas library were fired for a display city officials objected to. "Among the library displays were a rainbow infinity symbol representing neurodiversity and autism awareness and a colorful image with a disabled child, both of which city officials believed promoted an "LGBTQ agenda." Not even related to LGBTQ+ books. Just…colors. They were fired over colors by the city. They are suing.
"The book complaint I filed is not about book banning. And this is not about removing a book from the public library. This is about the presence of an age-inappropriate book in a publicly funded high school, where it can be accessed by children as young as 13 years old." This woman has no kids in the Las Cruces, New Mexico school district but is seeking to ban Jack of Hearts (And Other Parts) from the high school. Sorry, "removing." Sorry, "it's about the presence of an age-inappropriate book."
A judge has temporarily blocked a ballot proposition that would close the Dayton Memorial Library (OR). This library has been threatened with closure for not removing LGBTQ+ books the bigots do not like.
Brevard County, Florida, schools are considering ending the practice of recording the public comment period at meetings. They want to do this because of the new law in Florida where if someone brings a book to the board and reads something from it, it automatically gets pulled and put through the review process. The board hopes this will help dissuade some of the crisis actors from abusing the public comment time to fast-track book bans. Brevard County is the home of Moms For Liberty.
I love how this book banner at Midland Public Library (TX) claims she and her collection of friends were just being helpful by listing and pulling books they deemed inappropriate from the library.
Autauga-Prattville Public Library (AL) saw scores of people show up in defense of the library and it maintaining its independence despite complaints over LGBTQ+ materials.
Continuing with Prattville, it will now be against policy to let anyone under the age of 15 be in the library unsupervised. Screw homework, access to research and leisure reading, or, like, high schoolers having a safe third space.
What was "Clean Up Prattville" is now "Clean Up Alabama" and continuing their bigotry and crisis acting to Fairhope's public library. Here's the update on how they've vilified teen books there.
"The Alabama Public Library Service voted to post a list of books considered inappropriate for children on their website at Wednesday's meeting. The list is solely based on submissions as the public will be able to send in titles they think are inappropriate which will then be posted to the APLS website and distributed to libraries." Prepare for more bans in Alabama.
The Carver County Public Library (MN) board meeting this week will determine whether or not Gender Queer will be banned. No book has been removed from this library before, and the good news is, this one won't be either.
There will be no Banned Books Week "celebration" at the ImagineIf libraries (MT). I suspect we'll see a lot of this as boards decide to censor wherever feels right so they don't need to be accountable for their decisions.
"Additionally, in July, the district received a petition signed by more than 200 people, including Brookfield First Selectman Tara Carr, with a request to change its book selection criteria. Petitioners requested that the district clearly identify in its regulations what is considered obscene in the school library and to conduct a 'complete audit' of library books after the policy is revised, among other aims." This story of Brookfield, Connecticut's school board being requested to remove books is new to me — a politician like Carr demanding the district do something is creeping fascism, to be clear. The board will soon be determining whether or not to ban Fun Home.
Shocker: the folks petitioning to get manga removed from the Garfield County Libraries (CO) haven't read the books. They're also belligerent and don't believe rules apply to them.
School libraries opened to students on Monday in the Charlotte Mecklenburg district. Five books have been challenged. Lest we forget, this district met with the Moms For Liberty group last fall, and all five of the titles are ones that groups love to vilify.
This mom's first reaction to her 14-year-old being assigned The Absolutely True Diary of a Part Time Indian was to fly off the handle and demand the teacher be fired. Rational! The school board chair agrees with the parent and says the board is on her side of things — so, again, way to back your trained professionals (Mississippi).
Book banners are planning their school year agendas in Asheville and Buncombe County, North Carolina. Love the citation of the Bible here. (The editor's note is great, tbh!).
Individuals incarcerated in Missouri will no longer be able to get books from friends or family in a continued effort by the state to keep prison censorship as high as possible.
This idea of a "book resume" to help librarians and educators dealing with book bans is brilliant.
Students at Bartholomew Consolidated School Corporation (IN) have over 1,500 signatures on a petition to ban book bans in the district. Those impacted by book bans deserve a voice, and the voice across the country continues to be overwhelmingly against censorship.
In more news about the kids impacted by book bans, students who saw books pulled from their schools in Cobb County, Georgia, held a protest against the decision. It was student-run and led, and this piece is by one of the students.
Stamped has been removed "temporarily" from the New Hanover County Schools (NC) while the board creates policies to help determine its future.
Visalia Unified School District (CA) has several books under consideration for removal following complaints. Among them are This One Summer, The Black Flamingo, and Me and Earl and The Dying Girl. California's governor is expected to ban book bans by school boards soon, so the future of this board's actions are kind of moot (as they should be).
11 books require parental permission for students to access now in Natrona County High Schools (WY). One of the books is The Handmaid's Tale. More than half are comics.
Yorkville, Illinois's school board banned the teaching of Just Mercy because it is "too controversial."
While we have already seen books and lessons about the climate crisis being challenged, expect this to escalate over the coming school years. Some states want to legislate teaching "both sides" to it.
The president of South Carolina's Association of School Librarians has resigned because the state Department of Education has a pro-book banning/"parental rights" agenda.
Brookings School Board (SD) has a group called "Save Brookings" that aims to ban 200+ titles in the school library. Their list is the usual suspects, and this week, the board heard several public comments against these challenges (including this and this).
In the ongoing story of Samuels Public Library in Warren County, Virginia, Catholics in the community are defending the library, as they are upset with how the Clean Up Samuels group is depicting those of their faith.
More from Samuels: two of the books challenged in the flood of challenges, Prince and Knight and Cheer Up: Love and Pom Poms, will remain on shelves.
The committee tasked with reviewing book complaints at Helen Hall Public Library in League City, Texas, determined that none of the books shall be removed nor moved. Indeed, two of the book complaints were for books not even in the children's section, despite the claims by the crisis actors that they were. You mean these people are lying? Wow.
Clyde-Savannah Board of Education (GA) held a meeting about reversing a decision last year to remove five books from the schools. It's not out of the wanting to be on the right side of history but because of a lawsuit.
Caro Area District Library (MI) continues to hear from right-wingers about needing to remove three sex education books from the children's and teen areas of the library, with one Republican giving…an ultimatum? The books will not be moved.
"With the second item, board members expressed concerns about how a $5,000 grant from an organization called 'We Need Diverse Books' was obtained and the overall process of grant applications. A majority of board members appeared ready to ask for an investigation into how the grant was obtained but are waiting to hear how much it might cost. The book donation grant concern was raised by Payne. He questioned whether how the grant was obtained and whether the proper procedures were followed. He outlined the timeline of how teachers submitted the grant just two weeks after the board halted the purchase of any sexually explicit books on Feb. 13." The Brandywine School District (MI) not only continues to play the boogeyman card of "explicit" books in the library but they're also discussing the We Need Diverse Books grant awarded to one of their educators to purchase diverse books. They could be proud, but alas. That's not it.
A failed school board candidate challenged five books at Guilford Schools (CT), whose board is expected to decide in the next few weeks. Guess what? Parents don't want the books banned, so they showed up to say as much this week.
Two more books were added to the "mature reading list" in Wilson County Schools (TN).
This is not a book ban, but it's related: Temecula Schools (CA) are banning any and all flags from schools if they're not US or state flags.
Library advocates in Greenville County (SC) are trying to get the chairman of the library board removed. This is over a Pride display from June — check how they did this in the photo.
And to end where we began: Friendswood Christian School (TX) canceled a Scholastic Book Fair — and you know why. Not everyone is happy.