There's plenty to watch on TV this coming week!
The Roys return for one last hurrah on Succession Season 4, Kiefer Sutherland returns to the small screen, and Nancy Travis joins a cast of familiar faces on Ride.
Check out what we recommend you watch.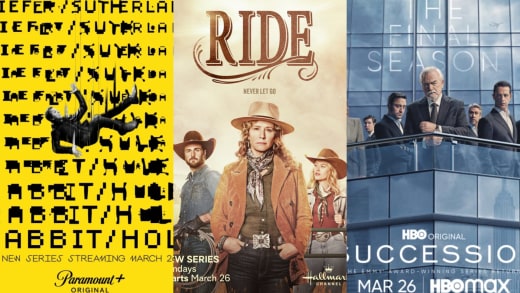 Saturday, March 25
8/7c Every Breath She Takes (Lifetime)
Castle's Tamala Jones stars in a mindbending thriller with Brian White, who expertly plays some of the worst spouses in film and television.
Jules feels she's finally free from her years of physical and emotional abuse from her husband when he dies in a house fire. Unfortunately, she's haunted by Billy, who may not actually be dead after all and is dead set on revenge.
Not only is Jules facing scrutiny as the woman who may have killed her husband by a determined detective (Tisha Campbell), but it's all the more maddening when it's evident that Billy is still alive.
Sunday, March 26
Rabbit Hole (Paramount+)
Are you up for a little excitement?
Kiefer Sutherland stars in this mind-bending series about a master of deception in the world of corporate espionage.
John Weir must use all the resources at his disposal when he's framed for murder by powerful forces with the ability to influence and control populations.
Great Expectations (FX on Hulu)
The latest adaptation of Charles Dickens's masterwork comes to FX by way of the BBC.
Oscar-winner Olivia Colman stars as the eccentric, vengeful Miss Havisham. Tom Sweet and Fionn Whitehead take on the role of Pip, a poor boy who intends to make a gentleman of himself by any means necessary.
Steven Knight's version highlights the bleakness of the tale. His London is a cruel and unyielding one.
The first two episodes of the six-episode limited series are available for streaming on March 26.
8/7c The Way Home (Hallmark)
Will they really have to say goodbye to the pond? The preview makes it seem like Alice only has one more jump in her. Sadly, it might be to Colton's funeral.
Kat's divorce is looming, and Brady wonders if this is really what they should do.
We've yet to see answers about Jacob's disappearance, but that may be about to change.
9/8c Ride (Hallmark)
Hallmark's new family drama has an all-star cast, including Nancy Travis, Tiera Skovbye, and Beau Mirchoff.
After a family tragedy affects the McMurrays, the family band together to save the family ranch in Colorado, even if it means another son has to become a bull-riding champion.
Isobel struggles with losing more family members to a dangerous sport versus saving the ranch, while Missy and Valeria struggle to find their spot in the family.
9/8c East New York (CBS)
If you want to know what's up with Regina's father, this might be your week!
He will make another appearance, this time to ask Regina a favor. Is it personal or professional, and how will she react?
Meanwhile, the 7-4 investigates the death of the patriarch of a local barbecue joint. Will Regina have something to say to Suarez about his seeming betrayal when he shows up to comfort the victim's widow?
9/8c Magnum: PI (NBC)
Magnum and Higgins have to divide and conquer when they have a pair of new cases.
Thomas's case unexpectedly will have an impact on T.C.
Juliet seeks to help an elderly man recover an expensive necklace a burglar took.
9/8c Succession (HBO)
It has all come down to this.
The sale of media conglomerate Waystar Royco to tech visionary Lukas Matsson moves ever closer. The prospect of this seismic sale provokes existential angst and familial division among the Roys as they anticipate what their lives will look like once the deal is complete.
A power struggle ensues as the family weighs up a future where their cultural and political weight is severely curtailed.
10/9c NCIS: Los Angeles (CBS)
When the NCIS team receives a cryptic, urgent message, Fatima and Rountree must work together to solve the case.
Kilbride plans to visit his son, Alexander.
Callen asks Sam to be his best man.
10/9c The Company You Keep (ABC)
Daphne tasks the Nicolettis with stealing a book of blackmail from a D.C. fixer as she looks to keep making money off the family.
Elsewhere, Charlie works to keep Emma safe, which means putting their relationship on the line.
Things are certainly heating up between the pair, and now that he knows her secret, it'll be interesting to see how he navigates their relationship!
Monday, March 27
Days of Our Lives (Peacock)
John's found a comatose Marlena. Kayla ran straight into a not-so-dead Bo. And Kate is still MIA (does anyone believe she's really dead?)
Megan's plot is quickly unraveling now that the men are on-site to confront her — what's going to happen now?
Meanwhile, Hope comes face to face with Ciara just after locking lips with Harris, so Bo can't regain his memories and reunite with his wife any faster!
8/7c All American (The CW)
Spencer comes face to face with his grief, and those he loves are collateral damage as he spirals into a person almost unrecognizable.
Jordan tries to step up as a leader, but no one's following.
Layla urges Patience to beware of her #1 fan.
10/9c Quantum Leap (NBC)
Please buckle up and know where your exits are as Ben leaps into an airline attendant on a flight destined to crash and kill everybody on board.
As the season's penultimate episode, the stakes rise as the QL team's confrontation with Martinez's handlers looms.
Now that they know where the information leak is, is there really anything they can do?
Tuesday, March 28
8/7c 9-1-1: Lone Star (FOX)
When it comes to competition, we know the 126 is always on top.
Tommy must face off against her former employer, Paragon Medical, at the scene of a harrowing call that tests everyone's limits and skill.
At a cancer fundraiser, not only does Owen have the support of his team, but he meets a beautiful new woman.
8/7c The Rookie (ABC)
Blanca Suarez may have been murdered by a serial killer!
Celina has to revisit her sister's homicide when two recent deaths have similarities and lead the team to conclude that there's a serial killer out there.
Now she and the others must race against time to save another victim before it's too late!
8/7c Night Court (NBC)
Wedding bells are ringing as a parade of brides literally lines up for Abby.
Officiating matrimony in the courtroom will be anything but smooth. One can hope a bouquet is the only thing tossed.
Will the team pull together to get this couple over the finish line? Tune in to find out and raise a glass that it all works out!
10/9c Will Trent (ABC)
At a trailer park massacre, Will finds an abandoned young boy with whom he immediately forms a bond.
Will files to begin the boy's temporary guardian and becomes determined to find justice for his family.
After confronting Lenny, Angie spirals, knowing her former abuser is free from prison.
Wednesday, March 29
8/7c Chicago Med
Uh oh! A documentary filmmaker joins Marcel in Abrams in OR 2.0, only to get in the way when disaster strikes.
We've been here before, with a videographer trying to get Marcel positioned for the perfect shot even though it would e bad for the patient's welfare.
This time is even worse, as Abrams is sure to be both snooty and snarky as Marcel struggles to save his patient.
Meanwhile, Will realizes he is developing feelings for one of his co-workers — could it be Grace?
​​
10/9c Chicago PD (NBC)
We're back to revisiting Kim's trauma from the Roy incident as she continues to make strides in her healing journey through therapy.
Meanwhile, the team gets pulled into a robbery with unusual suspects that takes them down a dark path of personal drama and intrigue.
Hopefully, we can anticipate a balanced hour.
10/9c The Ark (SYFY)
After an unpopular decision, discord gives way to deadly mutiny, where loyalties are tested.
The presence of the Trusts tests the current leadership on Ark One.
With the new faces on the ship, everyone starts questioning their roles on the mission as secrets get revealed.
10/9c A Million Little Things (ABC)
The family is coming in strong and testing each and every one of the crew with their presence.
Maggie must adapt to Inez's increased presence in Javier's life while dealing with her boss, opting to give Jessica her show and move Maggie to Saturdays after her maternity leave.
Katherine reacquaints herself with Greta's parents after their engagement, while Rome must help Omar accept Walter's decline.
10/9c True Lies (CBS)
Omega Sector must stop a dangerous hacker with missile codes that could cause a war in the Middle East.
When the hacker turns out to be a teenager, Harry and Helen must use their parenting skills to get him to cooperate.
Without the van, this is the first episode we'll see Omar Miller's Gib in the field.
Thursday, March 30
Star Trek: Picard (Paramount+)
As the Titan crew discovers how deep the Changeling infiltration of the Federation is, things grow more bleak, and moral compasses begin to spin wildly.
Jack begins to suspect his symptoms are more than Irumodic Syndrome, while Geordi struggles to solve the Data dilemma.
Will Vadic's plans for vengeance manifest? Or can our heroes flip the script? Beam onboard to find out!
8/7c Law & Order (NBC)
The newest homicide case promises to be even more dramatic than usual when Price is the one who finds the body!
He's supposed to be trying the case against the killer, but a defense attorney insists on putting him on the stand and pointing the finger at him to create reasonable doubt.
McCoy is not the only one shocked at this turn of events; this one will be a wild ride!
8/7c Station 19 (ABC)
Chief Ross doesn't stand for insubordination regardless of the situation, and she makes it known when she takes the lead as captain in Beckett's stead when the team goes on a bizarre call.
A social media livestream takes the team to uncharted territory, prompting a panic attack in the field by Maya.
Meanwhile, Ben stays behind to deal with a surprising diagnosis.
9/8c Law & Order: SVU (NBC)
If you thought Muncy couldn't hate Churlish anymore, think again.
When an investigation into who is drugging women's drinks at a bar points toward Muncy's brother, the already-angry detective resents the hell out of Churlish bringing him in. And if that wasn't bad enough, Muncy turns to her disgraced former partner Valesco for help.
Meanwhile, Churlish makes a risky move to impress Benson, but will she land herself in a situation she can't get out of?
9/8c Grey's Anatomy (ABC)
The conclusion to a thrilling and shocking two-part event kicks off in the immediate aftermath of an attack on Addison and another doctor after they get run down by an angry anti-abortion protestor.
Teddy puts the hospital in an immediate lockdown as everyone breaks off into different tasks to save the lives of their patients and some of their own.
Meanwhile, Maggie finds herself in hot water yet again with Winston while Jules' roommate makes a shocking appearance.
10/9c Law & Order: Organized Crime (NBC)
The investigation into Michael Quan's trafficking operation continues, and this will not be an easy case to crack by any stretch of the imagination.
Stabler works with the father of a trafficking victim who is desperate to find his son, but will he stop the man from taking matters into his own hands?
And Quan has friends in high places. A powerful politician tries to interfere with the case — will Bell be able to stop them?
10/9c CSI: Vegas (CBS) )
In this Emmy-buzzworthy episode, Max Roby promises a mother justice when the body of a young girl who was murdered 40 years ago is found at the bottom of Lake Mead.
The entire team searches for evidence, including Greg Sanders, who returns.
Don't miss our exclusive interviews with Anthony Zuiker, Paula Newsome, and guest-star Regina Taylor.
10/9c Good Trouble (Freeform)
Mariana struggles to navigate her first official day at Speckulate when she has no idea who to trust and what is at stake.
While Davia contemplates her next career move after an encounter with a theater friend, Malika struggles to manage her work/life balance.
Luca has a hard time keeping up with his first dance class.
Friday, March 31



8/7c Power Book II: Ghost (Starz)
Tariq and the team try to push their business to new heights, which means getting the product flowing even quicker and on a larger scale.
And nothing could possibly go wrong there, right?
Elsewhere, tension amongst the Tejadas reaches a fever pitch, and Saxe takes a closer look at the Teho Rollins case.
10/9c Blue Bloods (CBS)
FINALLY!
Not only is Blue Bloods back, but Jamie and Eddie have a story together. Our favorite law enforcement couple finds itself on opposite sides when Jamie has reason to believe that Eddie's friend is using her restaurant as a cover to sell drugs.
Meanwhile, Erin's in hot water when she's accused of causing a colleague's suicide and has to rely on both Jack and Anthony to get her out of trouble. This should be interesting!
Paul Dailly is the Associate Editor for TV Fanatic. Follow him on Twitter.