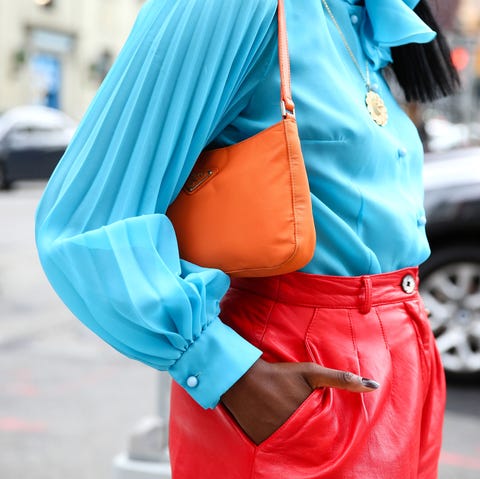 Donell WoodsonGetty Images
Looking back on the 2010s, we can recall some pretty interesting handbag moments. There were elephant shapes from Loewe, a dachshund replicas by Thom Browne, and even a grocery basket from Chanel. Bags of gargantuan proportions walked the runway, and others couldn't even fit an AirPod . Now that we've entered a brand new decade, what will be seeing in the spotlight, now?
Thankfully, 2020's bags are already looking to be much more tame than those of the '10s. We tapped the fashion teams at Bloomingdales and Net-A-Porter to let us know whatthey plan to carry throughout the year, and we're ready to expand our collection. Read all about them, below.
Soft, Pillow-Like Volume
For one of 2020's most major handbag trends, everyone is looking to Bottega Veneta's creative director, Daniel Lee, who transformed the brand and sparked the "new Bottega" craze. "Lee has had an immense impact on the accessories market, and this influence can be felt in his new shapes for the brand that celebrate padding and volume," says Erica Russo, vice president and fashion director of accessories and beauty at Bloomingdales. "His styles include a new take on the classic leather weave in a new padded version. It's now the iconic pouch that every It-girl has been seen wearing."
Follow the street style surrounding any Fashion Week, and there's no doubt you'll find a herd of attendees carrying the coveted Cassette bag. Libby Page, senior fashion market editor at Net-A-Porter, confirms that soft volume will still be strong in 2020. "If you buy one bag this season, it should be a practical but fashion-forward soft bag—be it a tote, a pouch, or a day clutch bag," she says. "This year, bags are going to be soft in shape and color. Bottega Veneta really led the way with its oversized clutch, but we've seen this style come through at The Row and the newly relaunched contemporary brand Louise Et Cie."
---
The Pouch Clutch
While top handle mini bags reigned supreme in 2019, this year is all about pouch-like clutches. In fact, Russo has dubbed it "the must-have item of 2020." We can't mention the pouch clutch without once again referencing Lee, who certainly made a case for it back when he first released Botttega's coveted version last year. The look is spreading, so now we're seeing them everywhere at all price points, shapes, and sizes.
From Bottega's leather dumplings to Dries van Noten's puffy fold-over envelope bags, the pouch makes the case for daytime wear, rather than keeping the clutch as a strict evening accessory.
---
The Modern Hobo Bag
If clutches aren't for you, fear not. According to Russo, the hobo bag, known for its slouchy body and shoulder strap, is set to have a major revival this year. "It's the newest shape we're loving for 2020," she says. Today's silhouette feel much less boho than its predecessors. We're seeing it in new shapes and textures that feel fresh—take the banana-shapes of Rejina Pyo or the minimalist bags by cult-favorite label By Far as example.
Beyond it's modern makeover, we're most excited about the pure convenience. While the new hobo comes in all sizes, the majority can carry way more than the minuscule satchels of last year (we're looking at you, Jacquemus). "Worn on the shoulder, it can be roomy enough to hold all of your everyday essentials," says Russo. Meaning, you can properly text your BFF and carry more than a Metrocard—a true fashion blessing.