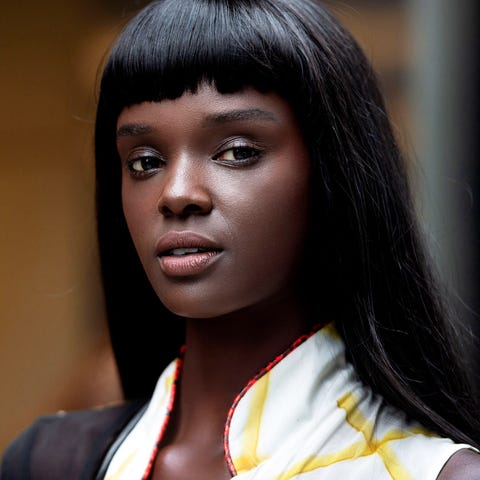 Andrew Morales/WWD/Shutterstock
I was the first in my family to be born in Australia. My parents came from South Sudan as refugees; the South Sudanese Civil War was really hard, and my dad wanted the best for us. He came over first with a few friends, and the rest of the families followed. (My mother was pregnant with me when she left South Sudan.) My grandpa was an English teacher so my dad was fortunate enough to be able to understand the paperwork; not many people in South Sudan could.
When I was maybe 5 or 6, more families started coming to Australia from South Sudan. We let many of them live with us so that they could ease into Australian culture. Because my dad spoke English, he could help them with their papers as well. Going from war to such a put-together country is a really difficult transition, and we tried to make that as easy as possible for them.
Though we lived in Melbourne, I grew up in a South Sudanese household. I spoke Nuer, the language of my tribe, and I learned English at the same time. I felt disconnected from my family's home country because I didn't know too much about it, but my parents did a lot to keep the culture alive; we'd attend community events and classes on Saturday, where we'd learn cultural dances, and we'd hold traditional wedding ceremonies. It's a very different culture, but it's part of who I am. I'm grateful for that. My parents didn't want me to lose that side of myself while growing up in Australia.
I went to a private school where there weren't many people of color. When we were growing up and people started wearing makeup, I could never find a shade for me, which was difficult to deal with. I remember being in a shopping center, and I couldn't find a single person who looked like me on a billboard. That moment made me want to get into fashion. I learned about modeling through my older sister, Nikki, who had signed with a small boutique agency in Melbourne. I would go to set with her, and the more I watched, the more I just loved it.
I was at one of her gigs when I got scouted to do Australia's Next Top Model. I was only 15 at the time, so they told me to come back when I was old enough. I was on the show when I was 17 for their eighth cycle. Tyra [Banks] made the show so big in the States, and it was so big in Australia as well, so when they asked me to participate, I was thrilled. But filming was difficult. We had limited access to speak to our families and we weren't allowed to go out, and, you know, as teenage girls that is a little bit tough. But I ended up finishing in third place.
After that, I tried to find gigs in Australia, but I didn't get much work, I think due to a mixture of things. I hadn't found my groove yet. When you're not confident in what you want, that plays a huge part in modeling. There was also a lot going on in my life at the time. I was in school studying chemistry (I hated it) and I'd just lost one of my seven siblings. When somebody passes in our culture, there's a weeks-long mourning process and that hit me hard. It took a toll on me, and I started to fall behind in school. That experience is what made me decide I was going to give modeling another crack.
My mom thought I was crazy, but I already had my visa in my hand; if you want to make it as a model you go to New York. In August 2016, I moved to New York City with $400 in my pocket. At the time, I really underestimated how hard it would be, and I underestimated the consequences of coming with so little. I lived in a model's apartment with a bunch of girls, and as soon as I got off the plane, it was running around to what felt like a billion castings. I was very emotional and cried a lot—I didn't know if I could do it. Looking back, I'm grateful for that experience because it taught me how to toughen up.
Two weeks after arriving, I was on my way out of a casting—I think for Ralph Lauren—when a casting director ran out after me. She worked for Kanye West's team and said, "Kayne is in the building, and he would love to see a fresh face." I was freaking out, but I went and met him and saw his collection with Jackie Nicholson. It just so happens that same day I also met Pat McGrath. It all flowed from there: I did Kayne's show that September and started working with Pat right away. Since then, I've been able to pick who I want to work with, like Tim Walker. I shot his Pirelli Calendar in 2018 as the first black "Alice in Wonderland," and I'm always going to be proud of that moment.
My upbringing definitely shaped my modeling career. My dad shared the lessons he learned growing up in Africa and moving to Australia, and that helped in my move to New York. He would always tell me to be stronger and to make my voice heard as a black woman.
The beautiful thing about fashion is it's an always-changing industry [in terms of diversity]. We're at a point right now, especially the younger generation, where everybody needs our voice and needs us to say what we want the fashion industry to look like in five years. Remember that billboard I couldn't find when I was younger? Today, there are women of color on billboards everywhere. At airports, every shopping center in every country I go to. It's so important and so necessary, and I'm so happy that other girls can see themselves now. When it comes to diversity in the industry, I'm happy to be a part of that change. My dad used to say, "Be true to yourself, and the answers will come." I really try and live by that principle.