Secrets have a way of coming out at the worst possible time in Salem.
Where would the soap opera be without these dramatic failures to cover up the truth? Still, when the same people ruin their lives repeatedly by keeping unnecessary secrets, you start wondering why they haven't learned their lesson.
Nicole is one of the worst offenders. And Days of Our Lives spoilers for the week of 4-17-23 suggest she STILL hasn't learned her lesson after years of sabotaging relationships through secret-keeping.
After Nicole and Eric got hot and heavy while under the influence of drug-tainted biscuits, Nicole's planning on keeping a secret from EJ. That can only mean one thing: she'll pretend to him the drugged sex never happened.
EJ understands the idea of drugs impairing the ability to consent. It's only been about a month since he refused to have sex with Nicole after she drank champagne that Stefan had laced with drugs. (Side note: if you have to repeat the same plot point with the same character twice in a month, it's time to retire that trope for a while!)
If Nicole were to come clean immediately, EJ might be upset, but he'd probably understand that Nicole wasn't in control of herself once he had time to calm down. But he won't forgive if she keeps it from him for weeks or months, especially if he finds out in some other, uglier way.
Nicole constantly sabotages her relationship happiness, but come on! Why does Days of Our Lives keep putting characters together, only to tear them apart soon afterward?
When it comes to Nicole, the writers tease us with the possibility of another popular pairing, then throw it all away for five minutes with Eric. It's annoying because Nicole has better chemistry with other characters, and Eric treats her poorly whenever they inevitably implode.
And it appears to be happening again, thanks to this latest secret. Nicole will confide in Anna, of all people.
Anna is strong-willed, opinionated, and terrible at keeping her mouth shut. Is this Nicole's way of telling EJ without telling him?
Meanwhile, Harris stumbles across Bo in Greece, who promptly tells him not to tell Hope. By the end of the week, Hope will come face-to-face with Bo herself, rendering the whole thing moot.
But she'll be upset if she learns Harris knew and didn't tell her. Hope doesn't take kindly to being lied to (see round 2 of Hope and Aiden) and will act like it's the end of the world when she finds out, even if it turns out not to matter.
Check out the Days of Our Lives spoilers below for more insight into what's coming up.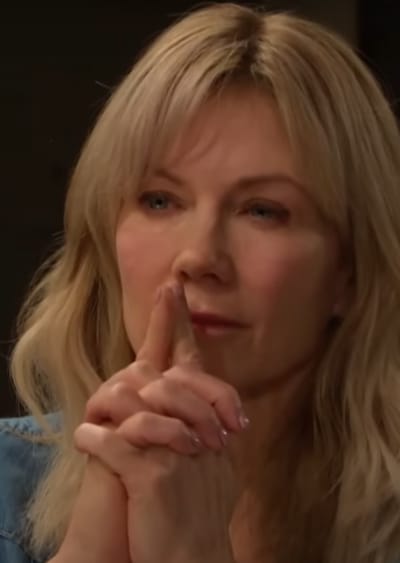 Megan and Kristen do a bit of sisterly bonding in prison.
Megan and Kristen joining forces was inevitable. Megan might have even insisted on going to Statesville because she knew Kristen was there.
These two schemers are half-sisters who have never met. Their first conversation should be fascinating.
According to spoilers, Megan and Kristen decide to work together to get what they want. In Kristen's case, Megan's existence is leverage she can use to get a visit with her daughter. But how will Megan use Kristen?
Hope receives intriguing information about the man who took Steve.
Hope will probably talk to that Greek cop and find out that "Shane Donovan" dragged Steve away.
She won't realize that the bad guy she's looking for is Bo — she'll likely assume it's Thomas Banks.
Still, that'll bring her one step closer to reuniting with her lost love.
Harris wrestles with a huge dilemma.
It's not that hard, Harris.
After running into  Bo while searching for Thomas Banks, Bo asks Harris not to tell Hope.
Harris doesn't want to lose Hope to  Bo, but keeping this promise is stupid. He'd have a better chance of remaining friends if not anything else, if he told Hope the truth.
Chad and Stephanie face down a menacing Thomas Banks.
Eileen Davidson returns to play Thomas Banks. While she's more closely associated with the role, I'd have loved for Stacy Haiduk to have the opportunity.
Haiduk has done great work as Susan and Sister Mary Moira, so why not Thomas Banks?
In any case, Thomas confronts Chad and Stephanie with a gun. Is there any chance Chad will use his son having the same name to talk Thomas Banks out of shooting him?
Secrets abound in the aftermath of the tainted biscuit incident.
Nicole and Eric decide to keep their tryst secret — of course, Sloan knows about it, so that probably won't last long.
Sloan also knows how Rafe treated Jada; will Rafe come clean with Abe or try to keep secrets?
But I'm most curious about EJ. He ate the biscuits too, but his reaction was off-screen. Did he also have a one-night stand or act inappropriately while under the influence?
Sloan and Eric get back on track.
Sloan is as abusive to Eric as he is to Nicole, except she gets over it faster. She gets angry, kicks him out, calms down, and reconciles. Rinse, lather, repeat.
Still, she needs Eric now. Psychologically and legally, she needs allies who believe she is being framed for harassing Paulina and Chanel.
It would be interesting if Sloan needed to rely on  Nicole's help to find the truth, but will Days of Our Lives go there?
Wendy comes to Seattle to see Tripp.
After believing Johnny and Chanel are back together, Wendy runs away to Seattle to be with Tripp.
That probably isn't the end of the triangle. Wendy'll find out eventually that Johnny was drugged.
Besides, who knows what she'll find in Seattle? Tripp might have run into an old girlfriend there or otherwise be doing something that upsets Wendy.
Chad and Stephanie find Kayla, while Hope comes face-to-face with Bo!
After escaping Thomas Banks' clutches, Chad and Stephanie will finally reunite with Kayla.
Meanwhile, Hope will find Bo while searching one of the Greek villas.
Will she finally break whatever spell he's been under since Megan brainwashed him? Let's hope so!
Your turn, Days of Our Lives fanatics. Hit the big, blue SHOW COMMENTS button and tell us what you think about these spoilers.
If you'd like to chat about already-aired episodes of Days of Our Lives, check out the latest Days of Our Lives reviews and Days of Our Lives Round Table discussions.
Days of Our Lives streams exclusively on Peacock. New episodes drop on weekdays at 6 AM EST / 3 AM PST.
Jack Ori is a senior staff writer for TV Fanatic. His debut young adult novel, Reinventing Hannah, is available on Amazon. Follow him on Twitter.