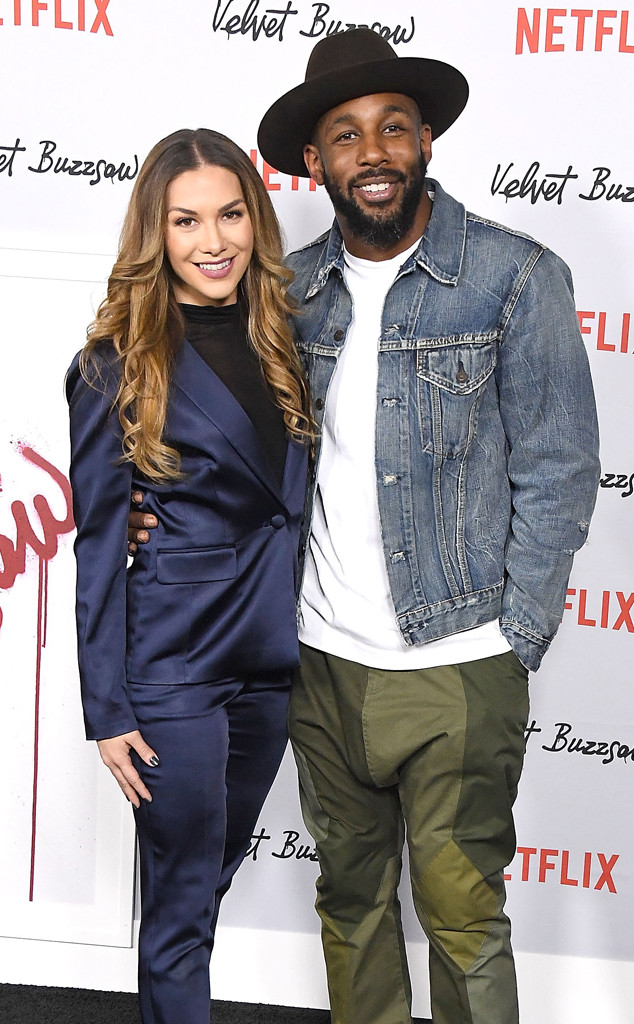 Steve Granitz/WireImage
Stephen "tWitch" Boss and Allison Holker are sharing a poignant message.
Joined by their 4-year-old son Maddox Laurel, the longtime couple participated in a TikTok challenge called "Check Your Privilege Edition," which asks users a series of questions about their experiences and, for each one that applies to them, they must place a finger down. Boss and Holker captioned their video, "White privilege is real."
The first prompt asked if either party "have ever been called a racial slur," to which Boss replied yes by putting down one of his fingers. Then, they were asked if they'd ever been "followed in a store unnecessarily," an instance that The Ellen DeGeneres Show emcee noted he had also experienced. Next, the prompt asked if either Boss or Holker had ever experienced "someone crossing the street to avoid passing you," which he answered yes by putting down another finger.
With three fingers down for Boss and none down for Holker, the couple continued.
"Put a finger down if you've had someone clutch their purse in an elevator with you," the prompt asked, to which Boss put down another finger. The question was followed by, "Put a finger down if you've had someone step off of an elevator to keep from riding with you," and, "Put a finger down if you've been accused of not being able to afford something expensive." Boss acknowledged that he had experienced both by placing two more fingers down.
Remaining silent and giving the camera stern glances, the So You Think You Can Dance alums were asked if they had ever had "fear in your heart when being stopped by the police," followed by if they'd "never been given a pass on a citation that you deserved." Next, they were asked to put a finger down if they'd been "stopped or detained by police for no valid reason." For Boss, he expressed that he had experienced all three incidents and put down a finger for each. At this point in the video, he only had one finger remaining while Holker still had all 10 fingers up.
The TikTok voiceover then asked, "Put a finger down if you have been bullied solely because of your race," leading Boss to put down his 10th finger. However, there were more questions remaining. Next, they were asked if either party had "ever been denied service solely because of the color of your skin." To conclude the video, the final question asked if either party had "ever had to teach your child how not to get killed by the police," which Holker responded to by putting down her first finger. "Any fingers left?" the prompt asked. "That's privilege."
In the wake of George Floyd's death, Boss has been using social media to call out injustice and fight for change. "Seriously, what's it going to take to prove our lives are valuable," he wrote. "I didn't even know how to approach this. I see and feel the anger on my timeline and I see it on the TV. But then what? Then what? Just a few weeks ago we were yelling about Ahmaud [Arbery], then Breonna [Taylor], now yet another King was murdered in broad daylight. In my post about Ahmaud I said we can't become desensitized. We can't leave this alone after the hashtags stop trending. These acts are products of a system that needs to be broken. To be infiltrated."
"But it has to happen after the headlines calm down. This anger and drive is fuel but we have to work at shutting bullsh-t like this down everyday! Holding people accountable. Even when you might be the only one to speak up," he continued, adding, "How many hashtags do our black bodies have to make trend before a shift happens.? How many?"
"E! stands in solidarity with the black community against systemic racism and oppression experienced every day in America," the network said in a statement on May 31. "We owe it to our black staff, talent, production partners and viewers to demand change and accountability. To be silent is to be complicit. #BlackLivesMatter."