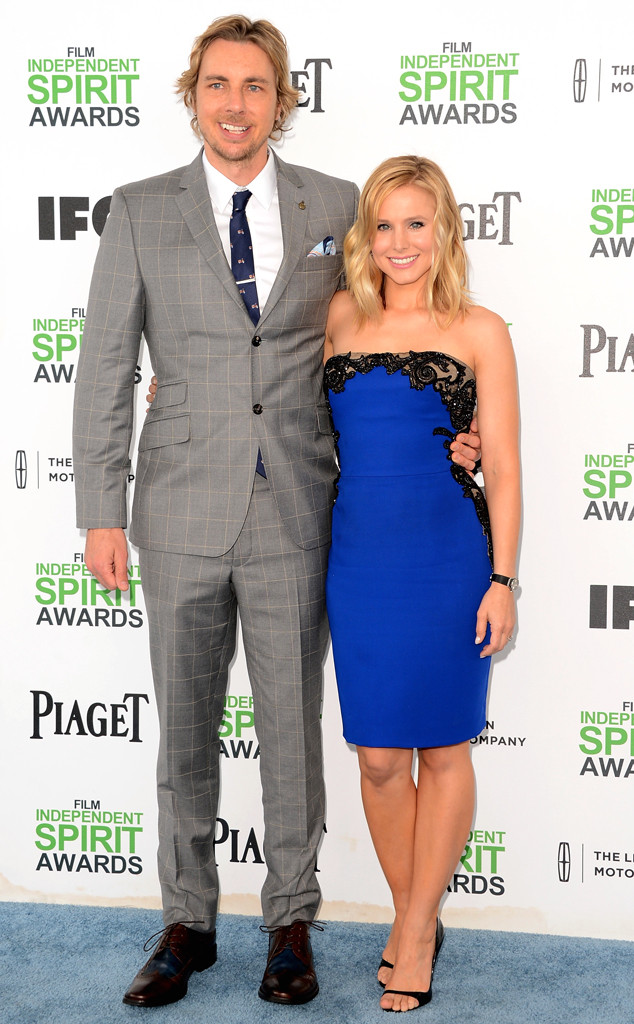 Jason Merritt/Getty Images
Kristen Bell isn't letting this one go any time soon.
On Tuesday, the Frozen 2 star stopped by The Ellen DeGeneres Show, where she shared an embarrassing story involving her husband Dax Shepard. While on the topic of her and the Armchair Expert host's family life, host Ellen DeGeneres requested that Kristen tell the audience about the time he accidentally flirted with her mom Lorelei thanks to an unfortunate emoji mishap.
"She was coming in town and sends him a text, like, 'Be there by 11′ and then sends him something else that says, 'Can't wait to see you tonight,'" the hilarious story began. "And he meant to respond, 'Smiley face. Smiley face. Smiley face.' And instead, he responds, 'Eggplant. Eggplant. Eggplant.' And when he did it, he went, 'Oh no, I made a huge a mistake.'"
"And, by the way, the minute you involve an eggplant an emoji, the whole story changes 'cuz now it reads, 'I'll be there in 11. Can't wait for see you tonight,'" Kristen continued, channeling her Gossip Girl narrator voice. "Which is not how the original text read or what she intended."
As the audience roared with laughter, The Good Place alum revealed that there was one silver lining behind the whole story: "Thankfully, she didn't know what the eggplant emoji was."
Before diving into Dax's emoji fail, Kristen gave Ellen an inside look at what her family has been up to these days with some other humorous anecdotes—starting with her and Dax's daughter Delta, 5, and her bath time misadventures.
"So, she's in there and I go to get her out and I pull her out," Kristen recalled. "I go, 'Oh, I don't think you got the conditioner out of your hair.' And she says, 'No, I did. I rinsed it.' And then 10 minutes later as I'm putting her pajamas on, I'm like, 'What did you use?' And she was like, 'The Vaseline.'"
After showing a picture of her daughter's hair covered in petroleum jelly, the Forgetting Sarah Marshall star shared how she handled the situation. "And how you get it out is this: It was three rounds of Hello Bello shampoo, one round of clarifying shampoo. Two rounds of dish soap," she listed. "And then we still had to wait four days because none of that worked."
Shocked by how difficult it was to remove, Ellen asked Kristen if she was able to comb Delta's hair, to which she replied, "No, we didn't touch it. I mean, who she got to impress?"
When Kristen isn't trying her best to wash Vaseline out of her child's hair, she's making sure that her 11-year-old rescue dog Barbra Biscuits, who is missing one eye and partially blind in the other, isn't getting into trouble.
"She's just a hot mess," she told Ellen while showing the audience a picture of the two of them. "Well, you know what? This was—she walked right into the pool…This eye only has 20% sight and but none of it involves the edge of the pool."
Jokingly concerned by Kristen's stories, Ellen quipped, "You're not looking good as a mom or a pet owner right now."
Watch E! News weekday mornings at 7 a.m.!