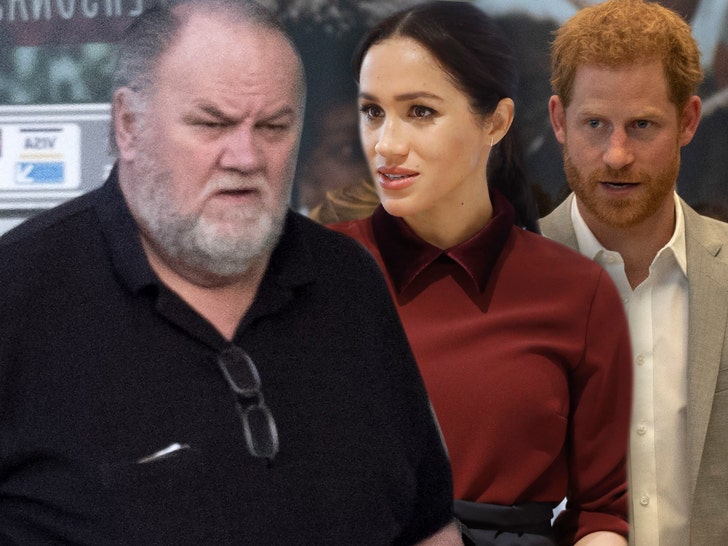 Exclusive
MEGA/Getty Composite
Meghan Markle's father doesn't give a royal crap about what people think of him continuing to make money off his relationship with her … or lack thereof.
Thomas Markle tells TMZ … a recent quote from his interview with Britain's Channel 5 — for which he was paid — got a bit misconstrued, but he's not backing down from the crux of what he said.
If you missed it … Thomas said Meghan and Prince Harry "owe" him for what he's been through, and he should be "rewarded" for it. He added … "My daughter told me when I reach my senior years, she'll take care of me. I'm in my senior years now … so it's time to look after daddy."
Thomas tells us he didn't mean the Duke and Duchess of Sussex should be sending him cash — that's clearly not happening because they don't communicate at all — what he meant was … he's going to keep cashing in on his story, and his royal connection.
Markle says he plans to continue booking paid interviews and public appearances — just like Meghan and Harry do — but the good news for him … he doesn't need permission from the Queen.
The gist of it, according to Thomas — he feels he got dragged into this situation, and if he's going to be without his daughter because of it … he needs to do whatever is necessary to look out for himself financially.
That's what he claims Meghan's doing by stepping down from senior royal duties to come to North America … a move he called "ridiculous" in his Channel 5 interview.
Yeah … he's probably right about her not taking care of him in his old age.