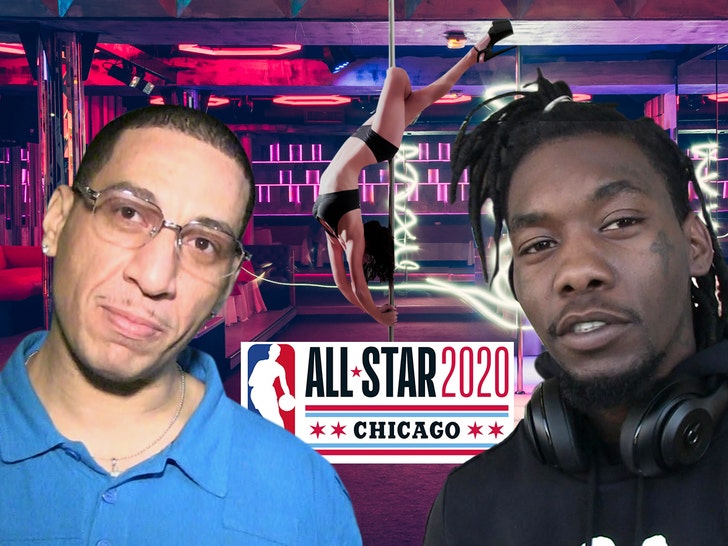 Exclusive
TMZ/Getty Composite
The strip club cavalry has arrived in Chicago with THOUSANDS of dancers, literally, making sure NBA superstars and fans are well entertained during All-Star Weekend!!!
The good folks at Ocean Gentleman's Club, Factory and Club O tell TMZ Sports … they've hired Last Coast Entertainment to promote events at all the clubs this weekend. We're told that means 3,000 strippers will be swarming around poles all over Chi-town.
The forecast calls for some serious rain, because we're told each club will have $450,000 in single dollar bills on deck each day for customers — NBA and otherwise — to spend on the dancers. The clubs are ready to bring in the Brinks trucks, too, if they need even more Washingtons.
As for who's leading all this fun … Offset will be front and center hosting an epic after-party Sunday at Ocean Gentleman's Club, following the All-Star Game. Also, Kid Capri's hosting that club's Saturday night bash.
The clubs also tell us they already have 10 tables reserved each night, exclusively for NBA ballers — and their kitchens will be working OT to serve up lamb chops, burgers, wings and shrimp. BIG dudes have BIG appetites!
BTW, NBA All-Star Weekend is like an annual Super Bowl for the strippers … so there's high-demand to get work in the host cities each year. We're told the dancers have to fork over $300 to $350 per night to a club just to get their high heels in the door.
Other gentlemen's clubs around Chicago — like Scores and Rick's Cabaret — are adopting NBA themes. Dancers will wear basketball uniforms, to start anyway, and of course there will be VIP sections just for NBA studs.
And, get this … one club tells us they're flying in girls from New York, Los Angeles and Miami to diversify their lineup. Now that's thoughtful!!