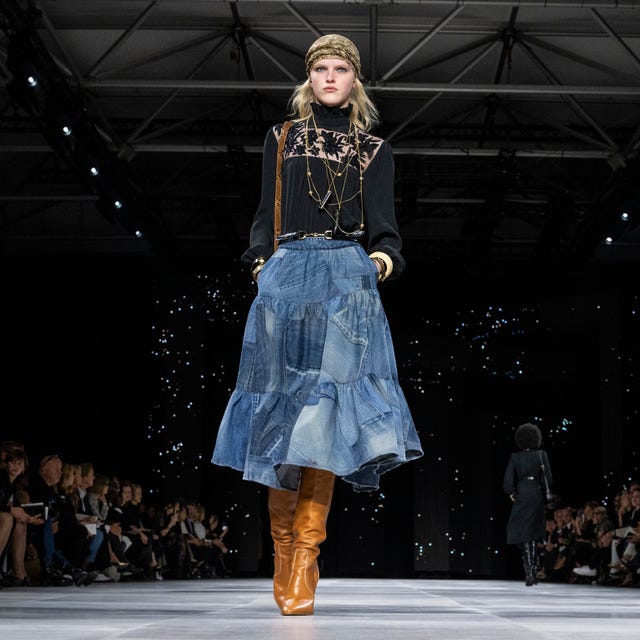 Peter WhiteGetty Images
Everything will eventually make its way back into style. At least that's what I tell myself (and my boyfriend) when every inch of our apartment is bursting with clothes. The ruffle or tiered skirt, whether mini, midi, or maxi, is a prime example. The trend floated down the spring/summer 2020 runways, best illustrated by two Parisian powerhouses: Saint Laurent by Anthony Vaccarello and Celine by Hedi Slimane. Both designers paid homage to the "Bohéme" dressing of the '70s, when Yves Saint Laurent ruled the world with his 1976 "Russian" runway show. It is still considered one of his most iconic collections to date.
Fast forward to 2020, and that hippie luxe look is back with the tiered skirt. Let me break it down for you: You need one in your closet this year. Pair it with a cute bikini top after a long day on the beach or give the silhouette an evening-appropriate twist by rocking it with a black turtleneck and stiletto boots. Regardless of how you choose to wear it, just remember what Yves Saint Laurent once said: "Fashions fade, style is eternal."
Advertisement – Continue Reading Below
Silk Skirt With Lamé Stripes
With its luxe chainlink print and metallic thread, there's no need to over-accessorize this Celine skirt. Keep it simple with a crisp, white button-down and knee-high boots to pull the look together.
Tiered Floral Print Crepe Midi Skirt
Isabel Marant Étoile
$460.00
A midi is the goldilocks length: It's more modest than a mini skirt, but less overwhelming than a maxi. 
Moonbeam Tiered Skirt
Pair this gypsy skirt with a t-shirt for a laid-back look, or dress it up with a chic body suit and strappy sandals. Bonus points: the metallic sheen is just modern enough to make sure your look isn't too retro. 
High-Rise Tiered Skirt
Lisa Marie Fernandez
$660.00
 There is nothing more '70s than lamé—it's shiny and it's chic, two very important elements in my book. 
Tiered Printed Silk Maxi Skirt
The length, the colors, the ruffles, and the paisley print on this skirt define la bohéme dressing. Add layers of gold necklaces and platforms to really lean into the look. 
Demeter Tiered Midi Skirt
Tiered skirts are usually associated with spring and summer, but this trend isn't just for those warmer days. Try the style in a jewel-tone color and wear it this winter. 

Herty Skirt
Not all ruffle skirts have to be long. Iro gives us a modern take with this easy mini. Try it with tights for the colder season, then slip on some sandals come spring. 
Metallic Thread Leopard Print Skirt
If paisley print isn't your thing, try a animal-print instead. It's surprisingly super versatile, and easy to be toned down or fully glitzed up.
Ruffled Skirt
St. Tropez, anyone? This skirt is perfect for your next warm-weather getaway. It's airy and easy—just tie your hair up in a printed silk scarf and throw on some oversized sunnies. 
Metallic Tiered Midi Skirt
Make Bianca Jagger proud with this glitzy skirt. Imitate the icon of Studio 54 with a full lamé look by matching a gold top with a plunging neckline. 
Advertisement – Continue Reading Below