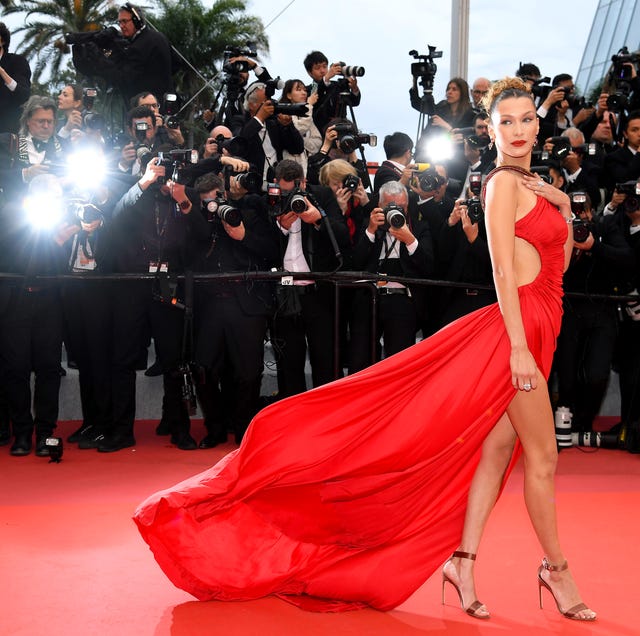 Pascal Le SegretainGetty Images
Posing for photos is an awkward undertaking, so how do celebs make it look easy? It turns out red carpet pros have an arsenal of poses for getting the perfect shot, but even the most effortless-looking photo-ops take some practice.
Celebrity stylist Micaela Erlanger, who dresses red carpet darlings like Lupita Nyong'o and Shailene Woodley, gives the same advice to all her clients. "Stand up tall, shoulders back and practice your smize or smile," she says. When all else fails, stand "tall and confident with arms by your sides."
Once you've mastered the basics, you can work any pose for the IG grid. Ahead, seven celebrity-approved stances to try now.
Advertisement – Continue Reading Below
1
The T-Rex
The answer to the age-old question, "What do I do with my hands?" The T-Rex is a simple but effective way to keep your arms occupied in a photo. Simply bend both your arms to meet at your midsection (like you're holding an invisible micro bag). Make sure the bend is slight and casual—never rigid. This pose is especially convenient for showing off rings and bracelets.
2
The Hand on Hip
A red carpet classic, this no-fail pose comes across as poised without trying too hard. Choose a hand (typically the one on your "good side") and lightly place it on your hip. Remember to keep your shoulders back and elbow slightly bent.
3
The Double Hand on Hip
Unlike its casual one-handed cousin, the Double Hand on Hip is all about attention. Use this pose for special occasions, when you really want your look to shine. Posture and confidence is everything, so stand up tall and straight.
4
Look Back at It
Whether it's a backless dress or a figure-hugging hemline, this pose is all about showing off your assets. Keep your body at an angle by planting your dominant foot forward and remember to curve your back. Bonus points if you shoot a coy look over your shoulder.
5
Thanks, It Has Pockets!
Let the world know your dress has pockets by slipping your hands in for a photo-op. Not only is it casual and cool, but it keeps your arms occupied. No time to get a manicure before a big event? The pocket pose is an easy fix.
6
The Thigh Rest
Not quite the Hand on Hip, the Thigh Rest is a subtle alternative. Simply stagger one foot forward and rest one hand on your thigh. This elongates the arms and legs, making you appear tall and lean in photos.
7
The Angie Leg
Made famous by Angelina Jolie at the 2012 Oscars, the Angie Leg is the best way to show off a sultry slit. Add some extra attitude by placing a hand on your hip.
Advertisement – Continue Reading Below